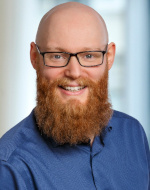 Pascal Vetter, M.Sc.
Institut für Technikfolgenabschätzung und Systemanalyse (ITAS)
Postfach 3640
76021 Karlsruhe
Fields of work
Human-centered design of technology
User participation
Human Computer Interaction
Socio-informatics
Applied Science
Professional background
Bachelor's degree in mechatronics with a major in technical editing. Bachelor of Engineering 2016. Master's degree in Human Computer Interaction at the University of Siegen, Germany. Master of Science 2020.
Pascal Vetter deals with the analysis, conception, evaluation and human-oriented design of digital systems. He enables the groups involved in these processes to engage in dialogue, moderates workshops, imparts knowledge and thus supports the development of future-oriented ideas and systems. In this way, he enables target-oriented discourses between technicians and non-technicians and contributes to long-term success for all those involved.
With his many years of experience in scientific and economic project contexts in the fields of technology design, process analysis, process optimization, information management, knowledge management, usability, user experience and design thinking, he builds bridges between scientific disciplines and specialist departments and develops solutions and ways out of seemingly deadlocked situations and processes. For this purpose, he applies methods from applied research.
Pascal Vetter has been working on his PhD thesis at ITAS since 2020, where he is investigating the question of which methods can be used to design AI systems transparent and human-centered.
Publications
2022
Posters
Nierling, L.; Maia, M. J.; Weinberger, N.; Vetter, P.; Lahn, N.; Asfour, T.; Krebs, F.; Peller-Konrad, F.; Reister, F.
Real world Lab "Robotic Artificial Intelligence" - Experience artificial intelligence through humanoid robots
2022. Cultures of Artificial Intelligence - New Perspectives for Museums (2022), Online, December 1–2, 2022