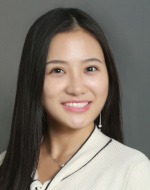 Huiting Liu
Institut für Technikfolgenabschätzung und Systemanalyse (ITAS)
Postfach 3640
76021 Karlsruhe
Current projects
Cluster of Excellence PoLiS
Professional background
| | |
| --- | --- |
| since 2019 | Doctoral student at ITAS |
| 2018 | Master thesis at the Institute for High Voltage Technology (IFHT) with the title "Development of a Reinforcement Learning Agent to Optimize Secondary Control Market Offerings", Aachen |
| 2017 - 2018 | Research assistant at the Institute of Power Systems and Power Economics (IAEW), Aachen |
| 2016 - 2018 | Master study Sustainable Energy Supply at the RWTH Aachen University |
| 2016 | Bachelor thesis at Inros Lackner SE in the field of energy-efficient laboratory planning for the Deutsches Elektronen-Synchrotron (DESY), Hamburg |
| 2015 - 2016 | Semester abroad at the Ostfalia University of Applied Sciences with with Chinese-German double degree, Wolfenbüttel |
| 2012 - 2016 | Bachelor study Energy Technology and Building Services Engineering at the Tongji University, Shanghai |
Publications
2021
Conference Papers
Liu, H.; Tomasini, C. R.; Lan, L.; Li, J.; Zhang, X.; Aßen, N.; Weil, M.
Organic Waste for the Production of Hard Carbon for Batteries - A Life Cycle Assessment Perspective
2021. Waste-to-Resources 2021 : 9th International Symposium Circular Economy, MBT, MRF and Recycling. Ed.: M. Kühle-Weidemeier, 319–332, Cuvillier Verlag 
2020
Posters
Liu, H.; Dou, X.; Lan, L.; Li, J.; Aßen, N. von der; Weil, M.; Baumann, M.
A Review for Environmental Analyses of Sodium-Ion Battery Systems and a Preliminary Life Cycle Assessment of Anode Material Manufacturing
2020. 41st SETAC North America (2020), Online, November 15–19, 2020