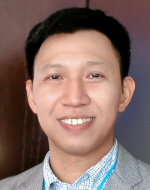 Dr. Lei Huang
Institut für Technikfolgenabschätzung und Systemanalyse (ITAS)
Postfach 3640
76021 Karlsruhe
Fields of work
Data Governance
Artificial Intelligence Governance
Global and intercultural TA
Responsible Research and Innovation
Open Science
Current projects
The Application of Artificial Intelligence on Data-Driven Autonomous Vehicles: a Comparative Study of Platform Governance Policy in China and Germany (funded by the Helmholtz – OCPC Postdoc-Program)
Professional background
| | |
| --- | --- |
| 2002 - 2006 | Bachelor's degree at Shanxi University of Finance & Economics (School of International Trade) |
| 2008 - 2011 | Master's degree at Guangxi University for Nationalities (School of Physics and Electronic Engineering) |
| 2013 - 2017 | Doctoral degree at University of Chinese Academy of Sciences (School of Humanities) with a thesis titled "Research on Antitrust Policy of China's Social Media: an empirical study based on personal data centralization" |
| 2017 - 2020 | Post-doctoral researcher, engineer in Chinese Academy of Science and Technology for Development (CASTED) |
| since 2019 | Board member: China's Society of Science, Technology & Society (Branch of China's Society of Sociology) |
| since 2021 | Guest researcher and post-doctoral researcher (funded by Helmholtz – OCPC Postdoc-Program) in ITAS |
Selected publications
Huang, L.; Zhao, Y.; He, G.; Lu, Y.; Zhang, J.; Wu, P. (2020)
Data access as a big competitive advantage: evidence from China's car-hailing platforms. Data Technologies and Applications.
Huang, L.; Zhao, Y.; Mei, L.; Wu, P.; Zhao, Z.; Mao, Y. (2019)
Structural Holes in the Multi-Sided Market: A Market Allocation Structure Analysis of China's Car-Hailing Platform in the Context of Open Innovation. Sustainability, 11(20), 5813.
Huang, L.; Zhao, Y.; Mei, L. (2019)
Research on Multi-sided Market Competition of Social Media Personal Data Resource——An Empirical Analysis Based on k-core Network. Soft Science, 33(06), 1-7. doi:10.13956/j.ss.1001-8409.2019.06.01
Miao, L.; Huang, L. (2018)
Review on the Studies of Digital Labor. Journal of Changsha University of Science and Technology (Social Science), 33(06), 14-20. doi:10.16573/j.cnki.1672-934x.2018.06.003
Huang, L. (2018)
The Formational Mechanism and Regulation of Data-Driven Innovative Motivation to the Social Media. Journal of Changsha University of Science and Technology (Social Science), 34(02), 21-29. doi:10.16573/j.cnki.1672-934x.2019.02.004