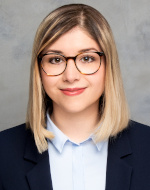 Merve Erakca
Institut für Technikfolgenabschätzung und Systemanalyse (ITAS)
Postfach 3640
76021 Karlsruhe
Fields of work
System analysis and life cycle assessment of metal-free and liquid-free organic lithium-ion batteries
Professional background
| | |
| --- | --- |
| since 2020 | Doctoral student at ITAS |
| 2017 - 2020 | Master studies in industrial engineering with focus on production engineering and management at Mannheim University of Applied Sciences |
| 2013 - 2017 | Bachelor studies in business administration with focus on purchasing and logistics at Pforzheim University |
Publications
2022
Journal Articles
Fichtner, M.; Edström, K.; Ayerbe, E.; Berecibar, M.; Bhowmik, A.; Castelli, I. E.; Clark, S.; Dominko, R.; Erakca, M.; Franco, A. A.; Grimaud, A.; Horstmann, B.; Latz, A.; Lorrmann, H.; Meeus, M.; Narayan, R.; Pammer, F.; Ruhland, J.; Stein, H.; Vegge, T.; Weil, M.
Rechargeable Batteries of the Future—The State of the Art from a BATTERY 2030+ Perspective
2022. Advanced Energy Materials, 12 (17), 2102904.
doi:10.1002/aenm.202102904
Posters
Baumann, M.; Weil, M.; Stuhm, P.; Erakca, M.; Ersoy, H.; Bautista, S. P.; Mandade, P.
Constructive technology Assessment as base to shape emerging technology – a use case for energy storage
2022. 5th European Technology Assessment Conference (ETAC5 2022), Karlsruhe, Germany, July 25–27, 2022 
Erakca, M.; Bautista, S. P.; Mogghadas, S.; Baumann, M.; Bauer, W.; Biasi, L. de; Weil, M.
Closing the Gaps in LCA of LIBs: Review and LCA of Lab-scale Cell Production
2022. 32nd Society of Environmental Toxicology and Chemistry Europe : Annual Meeting (SETAC Europe 2022), Copenhagen, Denmark, May 15–19, 2022 
Science Communication on the Internet