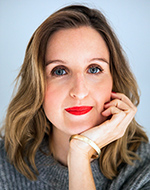 Dr. Paula Maria Bögel
Institut für Technikfolgenabschätzung und Systemanalyse (ITAS)
Postfach 3640
76021 Karlsruhe
Fields of work
I am interested in the role of the individual in relation to - and in the context of - systemic, structural change and indeed resistance to change with regard to technological and social innovations in sustainability transitions. My studies on human behaviour in socio-technical transitions – be it consumers, employees, experts, politicians or the general public – help understanding why agents react in the way they do and how these behaviors can be transformed to improve social acceptance of new (sustainable) technologies and, thus, achieve a sustainable development.
Professional background
| | |
| --- | --- |
| seit 2019 | Fellowship Young Investigator Group Preparation Program (Yig Prep Pro), Karlsruhe Institute of Technology (KIT), Institute for Technology Assessment and Systems Analysis (ITAS) |
| 2017 - 2019 | Senior researcher, Urban Analytics and Transitions, Royal Institute of Technology (KTH), Stockholm (02/2018- 01/2019), and Post-doc, Chair for Human Behaviour & Sustainable Development, Leuphana University of Lüneburg |
| 2016 | Research assistant, project: "Simulation-based measurement and validation of a competence model for sustainability management", Georg-August University Göttingen |
| 2012 - 2016 | Research assistant, Chair of Communication & PR, Institute of Corporate Development, Leuphana University of Lüneburg |
Selected publications
Bögel, P.M.; Upham, P.; Castro, P. (2019)
Thinking about the differing contributions of psychology and sociology for understanding sociotechnical transitions perspectives on energy supply and use, part of the special issue "Connecting dots: Multiple perspectives on socio-technical transition and social practices (by Giardullo, P.; Pellizzoni, L.; Brondi, S.; Osti, G.; Bögel, P.; Upham, P.; Castro, P.) Tecnoscienza –Italian Journal of Science and Technology Studies
full text
Bögel, P.M.; Pereverza, K.; Upham, P.; Kordas, O. (2019)
Linking socio-technical transitions studies and organizational change management: Steps towards an integrative, multi-scale heuristic, Journal of Cleaner Production, 232, S. 359-368
Bögel, P.M.; Upham, P. (2018)
The role of psychology in the sociotechnical transitions literature: a review and discussion in relation to consumption and technology acceptance, Environmental Innovation and Societal Transitions, 28, S. 122-136
Publications
2020
Journal Articles
Upham, P.; Bögel, P. M.; Dütschke, E.; Burghard, U.; Oltra, C.; Sala, R.; Lores, M.; Brinkmann, J.
The revolution is conditional? The conditionality of hydrogen fuel cell expectations in five European countries
.
2020. Energy research & social science, 70, Article no: 101722.
doi:10.1016/j.erss.2020.101722