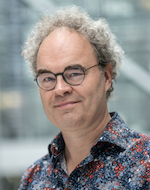 Prof. Dr. Karsten Wendland
Full Professor at Aalen University, part-delegated to KIT / ITAS

Research group "Digital Technologies and Societal Change"

Room:

207

Phone:

+49 721 608-22648

karsten wendland∂ kit edu
Institut für Technikfolgenabschätzung und Systemanalyse (ITAS)
Postfach 3640
76021 Karlsruhe
Fields of work
Artificial Intelligence and Machine / AI consciousness
AI Ethics in Business Innovation Processes
Corporate intranets, portals and corporate platforms
Blockchain and cryptocurrencies
Digital Farming / projects in Latin America
Professional background
Karsten Wendland studied computer science with minors in vocational education and human computer interaction. Computer Science Diploma 1999. Doctor philosophiae at Technische Universität Darmstadt 2006.
For over 20 years, Karsten Wendland has been involved in the analysis, conception and human-oriented design of digital networked applications for industry, SMEs, public agencies and international institutions. He brings IT ethics into business practice and supports the development of forward thinking strategies for applying innovative technology approaches and artificial intelligence (AI).
Through his exclusive consultancy, lectures, workshops and process support, he has helped countless senior executives, computer scientists, engineers, and employees of innovation-leading companies and international universities in Europe and the Middle East to redesign and successfully deploy digital collaboration systems, problematic and deadlocked IT systems, to Re-adjust and improve processes in industry, SMEs and public administration, to develop digital information systems for non-educational groups and for people seeking advice and help, to introduce new approaches and approaches to analysis and system design in companies and public authorities, to build bridges between departments and to find common solutions, to develop and control digital projects, to accompany tenders, to review supplier performance and to review disputes.
Wendland is co-founder and promoter of several companies, institutes and spin-offs that deal with networked applications, digital collaboration, leap innovations and non-blocking information flows in business life.
Karsten Wendland has been Professor of Media Informatics at Aalen University since 2008. There, he lectures in the degree programs Digital Content Creation and User Experience and carries out industry-related projects in the field of applied research.
Karsten Wendland has been working at ITAS at KIT since 2019 in the field of foundational research as the head of the BMBF project "Clarification of suspicion of consciousness in artificial intelligence (AI consciousness)".
Selected publications
Wendland, K.; Embacher, L; Straub, S. (2016)
Expectations and Apprehensions on Transhumanism. Interview with James J. Hughes, Zoltan Istvan, Stefan Lorenz Sorgner. In: FifF-Kommunikation, 2/2016: 19-23
full text
Wendland, K.
Mitarbeiterbeteiligung lebensnah umgesetzt im "Dark Intranet"
full text
Wendland, K. (2011)
Kultur- und Technikgestaltung in Social-Intranet-Projekten. In: Wolf, F. (Hrsg.), Social Intranet. Kommunikation fördern, Wissen teilen, effizient zusammenarbeiten. München, 2011: 122-141. Hanser.
Wendland, K.; Planz, C. and Oldorf, P. (2006)
Optimal Solutions for Hospital Websites. Requirements Engineering, 14th IEEE International Conference, pp. 233 - 238