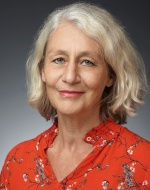 Dr. Bettina-Johanna Krings
Institut für Technikfolgenabschätzung und Systemanalyse (ITAS)
Postfach 3640
76021 Karlsruhe
Current positions
Deputy speaker of the Work and technology topic within the "Humans and Technology" focus of the Karlsruhe Institute of Technology (KIT)
Member of the ethics committee of the research group: "Dorfgemeinschaft 2.0 – Das Alter im ländlichen Raum"
Coordinator for teaching Technology Assessment at KIT
Fields of work
Technological innovations and their impacts on working structures
Concepts of the man-machine relation
Theory and methods of technology assessment
Sociological theories of modernity
Professional background
| | |
| --- | --- |
| 1991 - 1992 | Member of scientific staff in a vocational training program (Advanced Training Programme in Educational Management and Administration for Technical and Vocational Education) at the German Foundation for International Development (DSE) in Mannheim and Berlin |
| 1992 - 1994 | Member of scientific staff in a national project for promoting equal opportunities for women in education (Programa Nacional de Promocion de la Igualdad de Oportunidades para la Mujer en el Area Educativa) at the Ministry of Education of Buenos Aires, Argentina |
| since 1995 | Member of scientific staff at ITAS (formerly AFAS); temporarily working at the Office of Technology Assessment at the German Bundestag TAB |
| 2009 - 2013 | Deputy Head of research area Knowledge society and knowledge policy |
| 2013 - 2019 | Co-Head of research area Knowledge society and knowledge policy |
| 2015 | PhD thesis on "Strategies of individualization", supervised by Prof. Dr. Birgit Blättel-Mink and Prof. Dr. Tilla Siegel, Goethe University Frankfurt |
2015
Recent publications
2021
Book Chapters
Nierling, L.; Krings, B.-J.
Digitalisation and concepts of extended work
.
2021. Post-Growth Work: employment and meaningful activities within planetary boundaries. Ed. by: Irmi Seidl and Angelika Zahrnt, 134–146, Routledge 
2019
Book Chapters
Sauer, A.; Reichart, M.; Zimmermann, F.; Weckmann, S.; Eisenhauer, S.; Tristán, A.; Krings, B.-J.; Nierling, L.
Das Energieflexibilitätspotenzial der deutschen Industrie
.
2019. Energieflexibilität in der deutschen Industrie. Ergebnisse aus dem Kopernikus-Projekt - Synchronisierte und energieadaptive Produktionstechnik zur flexiblen Ausrichtung von Industrieprozessen auf eine fluktuierende Energieversorgung - SynErgie. Hrsg.: A. Sauer, 45–125, Fraunhofer Verlag 
List of publications at ITAS