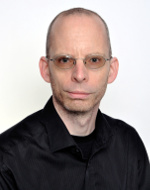 Reinhard Heil, M.A.
Institut für Technikfolgenabschätzung und Systemanalyse (ITAS)
Postfach 3640
76021 Karlsruhe
Fields of work
Social consequences of artificial intelligence
Transhumanism / Human Enhancement
Vision assessment

Life sciences

Professional background
| | |
| --- | --- |
| until 2003 | Master's degree in philosophy, literature and sociology at the TU Darmstadt |
| 2010 | Member of scientific staff at the Institut für Philosophie, Technische Universität Darmstadt, project "Ein ereignisorientiertes Denkmodell für die natürlich-sprachliche Programmierung" (An event-oriented conceptual model for natural language programming) |
| since 2010 | Member of scientific staff / project leader at ITAS |
Selected publications
König, H.; Frank, D.; Baumann, M.; Heil, R.
AI models and the future of genomic research and medicine: True sons of knowledge? Artificial intelligence needs to be integrated with causal conceptions in biomedicine to harness its societal benefits for the field 2021. Bioessays, 43 (10), Art. Nr.: 2100025. doi:10.1002/bies.202100025  
Kolany-Raiser, B.; Heil, R.; Orwat, C.; Hoeren, T. (Hrsg.)
Big Data - Gesellschaftliche Herausforderungen und rechtliche Lösungen. 2019. C.H. Beck, München
Kolany-Raiser, B.; Heil, R.; Orwat, C.; Hoeren, T. (Hrsg.)
Big Data und Gesellschaft: Eine multidisziplinäre Annäherung. 2018. Springer VS, Wiesbaden.
Heil, R.
Zur Aktualität von Slavoj Zizek – Einleitung in sein Werk. 2010. Wiesbaden: VS-Verlag.
Heil, R.
Trans- und Posthumanismus – Begriffsbestimmung. In: A. Hilt / A. Frewer / I. Jordan (Hg.): Endlichkeit, Medizin und Unsterblichkeit: Geschichte – Theorie – Ethik . 2010. Stuttgart: Steiner Verlag, 127-150.