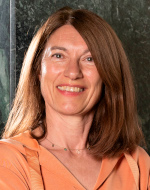 Dr. Christine Rösch
Institut für Technikfolgenabschätzung und Systemanalyse (ITAS)
Postfach 3640
76021 Karlsruhe
Current positions
Since 2009, Speaker of the "Environment and technology" topic within the "Humans and Technology" focus of the Karlsruhe Institute of Technology (KIT)
Since 2010, Elected Deputy Representative of KIT-Competence Field "Interaction of Science and Technology with Society"
2012-2013 Member of the strategy group on bioeconomy of the Ministerium für Wissenschaft, Forschung und Kunst Baden-Württemberg
Since 2012 Elected Deputy Representative of the competence area "Technology, Culture, and Society" of the Karlsruhe Institute of Technology (KIT)
Since 2020, Head of the research group "Sustainable Bioeconomy" at ITAS
Appointed jury member at the idea competition Bioökonomie Mittelgebirge
Member of the VDI 6311 "Bioeconomy" panel
Fields of work
Sustainability monitoring terrestrial and aquatic biomass utilization
Sustainability analysis and evaluation of the transformationof the energy system in Germany
Land use competition and innovations for efficient land use
Editorial activities
Co-editor of the issue "Challenges and Perspectives of Microalgae Production" of Technikfolgenabschätzung – Theorie und Praxis 21(1) 2012, together with Clemens Posten, KIT
Co-editor of the issue "Flächennutzungskonflikte: Ursachen, Folgen und Lösungsansätze" (Land use competition: reasons, consequences and solutions) of Technikfolgenabschätzung – Theorie und Praxis 17(2) 2008, together with Juliane Jörissen and Johannes Skarka
Professional background
| | |
| --- | --- |
| 1986 | German university degree "Diplom" in Agricultural Biology after studies in Agricultural Biology at University of Hohenheim |
| 1986 - 1987 | Scientist at the University of Georgia, USA |
| 1988 - 1995 | Scientist at AFAS (now ITAS) |
| 1996 | Graduation, PhD in Agricultural Sciences at University of Hohenheim (thesis title: Comparison of energetic and non-energetic paths for processing biological and green wastes) |
| 1996 - 1998 | Scientist at the Office of Technology Assessment at the German Bundestag |
| 1998 - 2000 | Scientist at the Institute for Energy Economics and the Rational Use of Energy (IER) at the University of Stuttgart |
| since 2001 | Scientist at ITAS |
| 2009 - 2019 | Head of Research area "Sustainability and environment" |
Recent publications
2021
Journal Articles
Baumann, M.; Domnik, T.; Haase, M.; Wulf, C.; Emmerich, P.; Rösch, C.; Zapp, P.; Naegler, T.; Weil, M.
Comparative patent analysis for the identification of global research trends for the case of battery storage, hydrogen and bioenergy
.
2021. Technological forecasting and social change, 165, Art.-Nr.: 120505.
doi:10.1016/j.techfore.2020.120505
Wichmann, J.; Lauersen, K. J.; Biondi, N.; Christensen, M.; Guerra, T.; Hellgardt, K.; Kühner, S.; Kuronen, M.; Lindberg, P.; Rösch, C.; Yunus, I. S.; Jones, P.; Lindblad, P.; Kruse, O.
Engineering Biocatalytic Solar Fuel Production: The PHOTOFUEL Consortium
.
2021. Trends in biotechnology.
doi:10.1016/j.tibtech.2021.01.003
2020
Reports/Preprints
Trommsdorff, M.; Gruber, S.; Keinath, T.; Hopf, M.; Hermann, C.; Schönberger, F.; Högy, P.; Zikeli, S.; Ehmann, A.; Weselek, A.; Bodmer, U.; Rösch, C.; Ketzer, D.; Weinberger, N.; Schindele, S.; Vollprecht, J.
AGRI-Photovoltaik: Chance für Landwirtschaft und Energiewende : Ein Leitfaden für Deutschland : Oktober 2020
.
2020. Fraunhofer ISE 
List of publications at ITAS