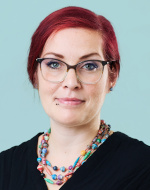 Janine Gondolf, M.A.
Institut für Technikfolgenabschätzung und Systemanalyse (ITAS)
Postfach 3640
76021 Karlsruhe
Fields of work
Philosophy and history of science and of technology
(Historical) epistemology, technoscience and papertools
Narratives and storytelling in science, science in practice
Scientific integrity between autonomy and application (peer-exchange, interdisciplinarity, knowledge and responsibility)
Professional background
| | |
| --- | --- |
| since 2021 | KIT, member of scientific staff at ITAS |
| 2018 - 2021 | Technische Universität Darmstadt, Department of Philosophie, member of scientific staff and team member of ERA CoBioTech Projekt "SUSPHIRE" (RRI, values and responsibility in 'early R&D') |
| 2015 - 2018 | Technische Universität Darmstadt, Master Technology and Philosophy (Master of Arts), Thesis: "Techniques and Procedures in Goethe's Theory of Colours – a techno-philosophical investigation into the Goethean relation to other pursuits ('nachbarschaftlicher Verhältnisse')" |
| 2012 - 2014 | Humboldt-Universität zu Berlin, studies in philosophy, in physics and cultural studies |
| 2010 - 2011 | Merck KgaA Darmstadt, group member of operation engineering handling laboratories and pilot plants in pharma R&D as student trainee (GMP Compliance, scale-up processes) |
| 2008 - 2009 | ALSTOM Power Systems (formerly EVT) in Stuttgart, project engineer for mechanical engineering in comminution processes (plant and process safety, ATEX, process optimization) |
| 2005 - 2008 | DHBW Mannheim, Dipl.-Ing. Process Engineering (specializing in energy systems and mechanical engineering) in cooperation with ALSTOM Power Generation (Mannheim, Beijing and Stuttgart), Thesis: "Investigating into the Relation of Key Figures for Grindability in Different Comminution Processes" |
Selected publications
Gondolf; Nordmann (2021)
Biotheorie und Bioparodie - Zur Transformation literarischer und biologischer Gattungen. In: Marzi; Ingensiep; Baranzke (Hrsg.): Biologische Transformation -Interdisziplinäre Grundlagen für die angewandte Forschung, Verlag Karl Maria Laufen, Seiten 63-76
Publications
2022
Presentations
Janich, N.; Jahaj, D.; Grunwald, A.; Gondolf, J.
Wissenschaftliche Politikberatung: Transparenz und Öffentlichkeit durch Digitalität
2022. 10. Gestreamt, gelikt, flüchtig - schöne neue Kulturwelt? Internationale Konferenz des Netzwerks Technikfolgenabschätzung (NTA 2022), Bern, Switzerland, November 14–16, 2022