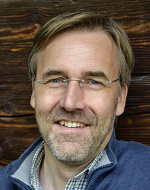 Dr. Carsten Orwat
Scientific staff

Research group "Digital Technologies and Societal Change"

Room:

317

Phone:

+49 721 608-26116

orwat∂ kit edu
Institut für Technikfolgenabschätzung und Systemanalyse (ITAS)
Postfach 3640
76021 Karlsruhe

For encrypted e-mails: S/MIME Zertifikat KIT-CA
Fingerprint: SHA1:66:91:38:BB:AA:9B:4E:97: 43:23:DB:BD:27:0C:C9:62:E8:89:1C:C6
Projects
Since 2019: Project "Governance von und durch Algorithmen"
2018: Project "Risks of discrimination by algorithms"
Since 2015: Project "Assessing Big Data (ABIDA)"
Since 2011: Project "Systemic risks in energy infrastructures"
Since 2008: Software as institution
2006 - 2008: Project "PerCoMed - Pervasive Computing in der vernetzten medizinischen Versorgung" (Pervasive Computing in Networked Medical Care)
2006: Project "Recasting of Copyright and Related Rights for the Knowledge Economy" (subcontract), project co-ordinated by Institute of Information Law, University of Amsterdam on behalf of the European Commission
2004 - 2006: Project coordination of "INDICARE - The Informed Dialogue about Consumer Acceptability of DRM Solutions in Europe", Project funded by the European Commission, DG Information Society, eContent Programme
INDICARE website
2004 - 2005: Project coordination of "Socio-Economic Challenges of Grid Computing"
2002 - 2005: Project "FISTERA - Thematic Network on Foresight on Information Society Technologies in the European Research Area", Competitive Action under the European FP V IST programme, coordinated by the European Commission, Joint Research Centre, Institute for Prospective Technology Studies
2003: Project "Mapping the European Knowledge Base of Socio-Economic Impact Studies of Information Society Technologies" (EKB-SEIS)
2001 - 2002: Project "Electronic Commerce" of the Office for Technology Assessment of the German Parliament (TAB) in cooperation with ITAS
2000 - 2001: Project "Online Bookselling"
Professional background
Studies of economics at the Ruhr Universität Bochum, Germany. Doctorate at the department of economics, university of Jena. Since 2000, senior scientist at ITAS. Several research projects dealing with technology assessment and innovation research, in particular on information and communication technologies.
Selected publications
Orwat, C.
Risks of Discrimination through the Use of Algorithms. A study compiled with a grant from the Federal Anti-Discrimination Agency (FADA). Berlin: FADA, 2020
Volltext/pdf
Orwat, C.; Bless, R.
Values and networks - steps toward exploring their relationships. ACM SIGCOMM Computer Communication Review 46(2016)2, S. 25-31
Volltext/pdf
Orwat, C.; Raabe, O.; Buchmann, E.; Anandasivam, A.; Freytag, J.; Helberger, N.; Ishii, K.; Lutterbeck, B.; Neumann, D.; Otter, Th.; Pallas, F.; Reussner, R.; Sester, P.; Weber, K.; Werle, R.
Software als Institution und ihre Gestaltbarkeit. Informatik-Spektrum 33(2010)6, S. 626-633
Orwat, C.; Rashid, A.; Holtmann, C.; Wölk, M.; Scheermesser, M.; Kosow, H.; Graefe, A.
Adopting pervasive computing for routine use in healthcare. IEEE Pervasive Computing 9(2010)2, S. 64-71
Abstract englisch/htm
Orwat, C.; Graefe, A.; Faulwasser, T.
Towards pervasive computing in health care - a literature review. BMC Medical Informatics and Decision Making 8(2008), S. 1-46, DOI:10.1186/1472-6947-8-26
Abstract englisch/htm
Recent publications
2021
Posters
Maia, M. J.; Nierling, L.; Coenen, C.; Fleischer, T.; Heil, R.; Jahnel, J.; König, H.; Orwat, C.
Research on AI at ITAS
2021. Helmholtz Artificial Intelligence Conference (Helmholtz AI 2021), Online, April 14–15, 2021