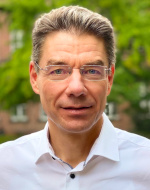 Prof. Dr. Michael Decker
Head of institute (currently suspended)

Professor of Technology Assessment

Currently the management of ITAS is suspended; Head of division II "Informatics, Economics, and Society".

Phone:

+49 721 608-41050

michael decker∂ kit edu
Kaiserstraße 12
D-76131 Karlsruhe
For a larger version of the portrait image, please click here.
Current positions
Professor for Technology Assessment at the Karlsruhe Institute of Technology (KIT)
Full member of the National Academy of Science and Engineering (acatech)
Chairman of the Advisory Board "Technik im Dialog" (Technology in dialogue) of the VDI
Head of the Advisory Board "Innovation- and Technology Analysis" of the Federal Ministry of Education and Research
Spokesperson of the Netzwerk Technikfolgenabschätzung (NTA)
Member of the supervisory board of the Nationales Institut für Wissenschaftskommunikation (NaWik)
Chairman of the Advisory Board "Nanotrust advanced" (ITA Wien)
Fields of work
Concepts of Technology Assessment
Methodology of interdisciplinary research
Professional background
1991 - 1995
Member of scientific staff at the Institute for Physical Chemistry at Heidelberg University
1992
German university degree "Diplom" after studies in physics (minor subject economics) at Heidelberg University
1995 - 1997
Member of scientific staff at the German Aerospace Center (DLR) in Stuttgart
1995
Doctor's degree in natural sciences at Heidelberg University (spectroscopy of oxygen in the high pressure combustion)
1997 - 2002
Member of scientific staff at the Europäische Akademie zur Erforschung von Folgen wissenschaftlich-technischer Entwicklungen Bad Neuenahr-Ahrweiler GmbH
2003 - 2004
Member of scientific staff at ITAS
2004 - 2014
Deputy head of institute
2006
Habilitation at the University of Freiburg (interdisciplinary research for technology assessment)
2014 - 2015
Head of institute
since 2015
Head of "Division II - Informatics, Economics, and Society"
Recent publications
2021
Conference Papers
Lindner, R.; Heyen, N.; Decker, M.; Ehrensperger, E.; Lingner, S.; Scherz, C.; Sotoudeh, M.
Gesellschaftliche Transformationen und Technikfolgenabschätzung – Einführung in den Konferenzband
2021. Gesellschaftliche Transformationen : Gegenstand oder Aufgabe der Technikfolgenabschätzung?. Hrsg.: R. Lindner, M. Decker, 11–18, Nomos Verlagsgesellschaft.
doi:10.5771/9783748901556-11
List of publications at ITAS