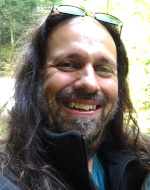 Dr. Oliver Parodi
Head of research group

Research group "Karlsruhe Transformation Center for Sustainability and Cultural Change"

Room:

408

Phone:

+49 721 608-26816

oliver parodi∂ kit edu
Institut für Technikfolgenabschätzung und Systemanalyse (ITAS)
Postfach 3640
76021 Karlsruhe
Fields of work
Real lab theory and real lab research
Transformative sustainability research (in urban space)
Culture and sustainability
Personal sustainability, inner transformation
Sustainable city planning
Professional background
| | |
| --- | --- |
| 2009 - 2018 | Management of the KIT Center Humans and Technology |
| since 2006 | Scientific staff member at ITAS (Senior Scientist) |
| 2006 | Doctorate (Dr. phil.) at the Institute for Philosophy, University of Karlsruhe |
| 2002 - 2006 | Doctoral student at ITAS on the topic "Solid Hydraulic Engineering and Natural Hydraulic Engineering - World Views. Sustainability. Ethics" |
| 1994 - 2001 | Different (leading) activities in the Parodi-Bau GmbH |
| 1992 - 2000 | Study of civil engineering and accompanying study of applied cultural science at the University of Karlsruhe |
Selected publications
Parodi, O.; Steglich, A.: Reallabor. In: Schmohl, T.; Philipp, T. (Hrsg.): Handbuch Transdisziplinäre Didaktik. S. 255-266. (i.E.)
Parodi, O.: Zum Verhältnis von Technik, Technikfolgenabschätzung und Transformation. 2021. In: Gesellschaftliche Transformationen. Hrsg.: R. Lindner, 19–36, Nomos Verlagsgesellschaft
Parodi, O.; Tamm, K. (Hrsg.): Personal sustainability : exploring the far side of sustainable development. 2018. Routledge 
Parodi, O.; Waitz, C.; Bachinger, M.; Kuhn, R.; Meyer-Soylu, S.; Alcántara, S.; Rhodius, R.: Insights into and Recommendations from Three Real-World Laboratories : An Experience-Based Comparison. 2018. Gaia, 27 (1), 52–59. doi:10.14512/gaia.27.S1.12  
Parodi, O.: Technik am Fluss: Philosophische und kulturwissenschaftliche Betrachtungen zum Wasserbau als kulturelle Unternehmung. 2008. Oekom-Verlag 
Recent publications
2023
Journal Articles
Weiser, A.; Wanner, M.; Stelzer, F.; Lang, D. J.; Berger, H.; Förster, A.; Liedtke, C.; Micklitz, H.-W.; Niewöhner, J.; Parodi, O.; Potthast, T.; Schneider, F.; Sörgel, F.; Ziehl, M.; Ziemer, G.
Exploring fruitful links between real-world laboratory and disciplinary research : Introduction of the DKN Future Earth working group LinkLab
2023. GAIA - Ecological Perspectives for Science and Society, 32 (3), 335–337.
doi:10.14512/gaia.32.3.13
2022
Conference Papers
Saha, S.; Matzarakis, A.; Albrecht, A.; Fricke, A.; Collet, F.; Almeida, I.; Hirsch, M.; Gangwisch, M.; Cueva-Giron, J. M.; Köhler, M.; Beckmann-Wübbelt, A.; Schobert, M.; Fröhlich, K.; Trenks, H.; Parodi, O.; Böddeker, H.; Kienzler, U.; Reuter, M.
Inter- and transdisciplinary research approaches to increase the resilience of urban and peri-urban forests (UPFs) to climate change impacts - lessons learned from the first phase of the "GreenLung" ("GrüneLunge") project, Germany
2022. UFFU 2022 : International Conference Leuven : Urban Forests, Forest Urbanisms, and Global Warming: Developing Greener, Cooler and more Resilient Cities : Book of Abstracts, Katholieke Universiteit Leuven (KU Leuven) 
2021
Reports/Preprints
Liedtke, C.; Braun, J. von; Gossen, M.; Lewandowski, I.; Parodi, O.; Prätorius, G.; Rotter, V. S.; Schell, U.; Vogt, M.
Konsumpolitiken stärken, transformative Schritte einleiten, gesellschaftliche Potenziale weiter entfalten : wpn2030-Impuls für den Staatssekretärsausschuss für nachhaltige Entwicklung "Bedeutung des nachhaltigen Konsums und Anforderungen an die Weiterentwicklung des Nationalen Programms für nachhaltigen Konsum"
2021. Geschäftsstelle Wissenschaftsplattform Nachhaltigkeit 2030 (wpn2030)