Assistive technologies for the inclusion of people with disabilities in society, education and jobs
Project team:

Nierling, Linda (Project leader); Maria João Maia; Leonhard Hennen; Gregor Wolbring

Funding:

STOA (The Science Technology Options Assessment Panel of the European Parliament)

Start date:

2016

End date:

2017

Project partners:

Fraunhofer Institute for Systems and Innovation Research (ISI), Institute of Technology Assessment of ÖAW (ITA), RT Paris

Research group:
Project description
A key aim of the European Union is the development of an inclusive, reflective and innovative society. This aim also includes people with disabilities. If conceptualized and used in the right way, Assistive Technologies (ATs) can be a key enabler of the participation of people with disabilities in society in general and in education and employment in particular.
The aim of this project is to anticipate how ATs might or might not increase the inclusion of people with disabilities all over Europe by 2050. Emerging technical developments – which might also play themselves out depending on how they are governed and used – are e.g., brain to text, sign language to speech, brain computer interfaces, social robots or self-driving cars.
Whether in the areas of education, employment, health or general living assistance, the importance of the development of ATs for people with disabilities will continue to grow. The definition and meaning of what an assistive technology is, is still very much contested in the academic but also political debate. Therefore, a sound foresight analysis of the state of the art as well as future trends of ATs is needed to evaluate societal and political options that would properly address the needs of people with disabilities, enable a positive perception of people with disabilities, and thus support the inclusion of people with disabilities in Europe's society.
ATs for the inclusion of disabled people in society, education and jobs will be investigated for three different types of disabilities (subject areas):
Deaf and hard of hearing
Blind and visually impaired
People with autism
In terms of methodology, the approach follows the Scientific Foresight method that STOA tailored to serve the European Parliament. Next to a literature review, qualitative and quantitative empirical research will also be performed by means of interviews and an on-line survey. The focus will be on the needs and perceptions of assistive technologies, by disabled and non-disabled people. As a result, four narrative scenarios will be created, discussed at the European Parliament, and visualized as a short video.
Invitation to present the outcomes of the study at the EMPL Committee meeting
March 21st 2018 10:45 – 11:30 am, at the European Parliament in Brussels
The meeting video can be seen here.
Workshop "Assistive technologies for the inclusion of people with disabilities in society, education and jobs"
January 31st 2017, 10-16 h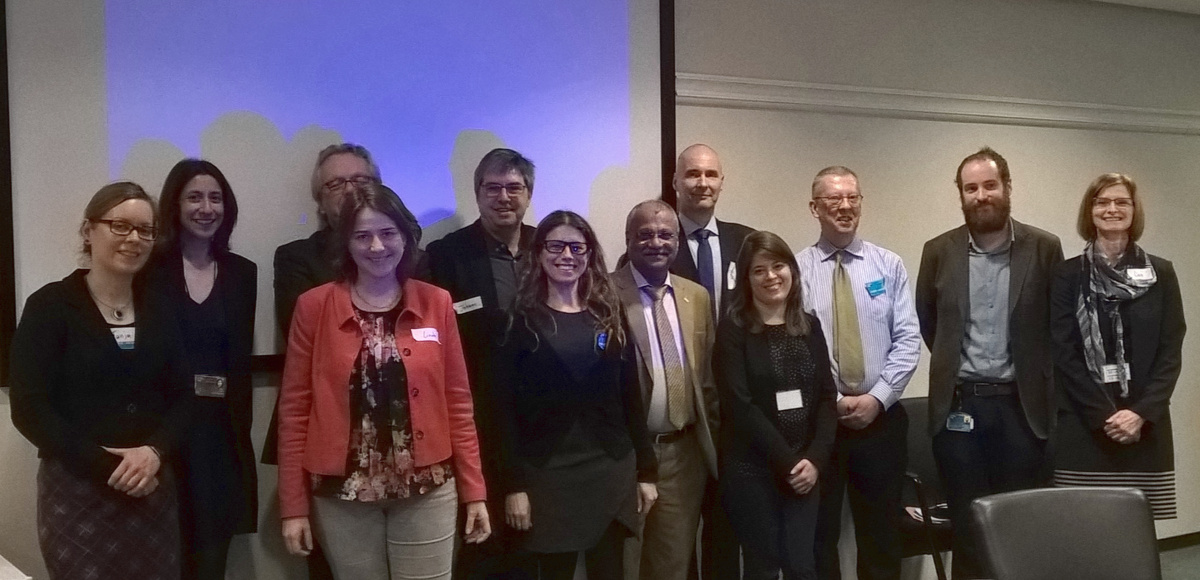 Tanja Bratan, ETAG, ISI Fraunhofer; Neha Dave, Med Tech Europe; Leonhard Hennen, KIT, ETAG; Linda Nierling, KIT, ETAG; Johann Čas, ETAG, OeAW; Maria Joao Maia, KIT, ETAG; Chapal Khasnabis, WHO; Antti Raike, Aalto University; Aurélie Baranger, Autism Europe; Peter Cudd, University of Sheffield; Philipp Boucher, STOA; Lieve van Woensel, STOA. Photo: Maria João Maia
Agenda (PDF)
Project outcome
News of the European Parliament with video recording of the meeting of 15.12.2016
All publications can also be found at the European Parliament website.
The general results of the project were resumed in the video "Assistive Technologies".
A brief overview of the results can also be found in the following interview.
Contact
Dr. Linda Nierling
Karlsruhe Institute of Technology (KIT)
Institute for Technology Assessment and Systems Analysis (ITAS)
P.O. Box 3640
76021 Karlsruhe
Germany
Tel.: +49 721 608-22509
E-mail