Due to its outstanding raw materials potentials, the multifaceted possibilities of usage and the importance for energy industry and climate protection which comes along with this, bioenergy plays an important role in the development of a sustainable energy supply. Among the different possibilities of conversion and use, research and development currently concentrates on gaseous biogenic fuels. These fuels feature better handling characteristics, various options for conversion or further processing and offer a high potential for an efficient use of biomass. An efficient distribution and energetic use should be achieved by feeding the processed biogas or thermochemically produced gas in natural gas quality into the existing natural gas grid.
The aim of the project was to examine and evaluate the potential and perspectives of the production and the energetic use of biogenic gases as substitute for natural gas (SNG, Substitute Natural Gas) within the framework conditions in Baden-Württemberg using systems analyses. In this context, the focus was put on the analysis of the production and use of biogas and thermochemically produced gases from biomass. These technologies were compared with those for a direct energetic use of biomass for power and heat production. Furthermore, the importance and role of the use of biogenic gases regarding the situation in the energy sector in Baden-Württemberg was analysed.
To this end, the essential process steps in the production and use of biogenic gases were analysed regarding their technical, economic and environmentally relevant parameters. This was complemented by a comparison of the different technologies and their classification according to the situation in the energy sector in Baden-Württemberg. In addition, this also provided scientific support for the Bioenergie-Forschungsplattform Baden-Württemberg (bioenergy research platform Baden-Württemberg) and co-determined the work done there.
The systems analyses of ITAS on this project concentrated on the following fields:
Conversion technologies: Analysis of the technologies for the production of biogenic gases (biogas and thermochemical path)
Processing und feed into the natural gas grid: Analysis of the technologies for the processing and feed-in of biogenic gases as SNG
Power, heat and fuel supply from SNG: Comparison of the use of SNG with the direct energetic use of biogenic gases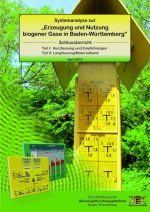 Endbericht zum Projekt:
Systemanalyse zur "Erzeugung und Nutzung biogener Gase in Baden-Württemberg"
- Schlussbericht -
Teil I: Kurzfassung und Empfehlungen
Teil II: Langfassung/Materialband
Volltext/pdf