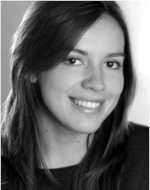 Iulia Almeida Yakouchenkova
Institut für Technikfolgenabschätzung und Systemanalyse (ITAS)
Postfach 3640
76021 Karlsruhe
Professional background
since 2018
Scientific staff member at ITAS
2018
Student research assistant in the Chair of Forestry and Environment of the University of Freiburg
2017
Student research assistant in ITAS in the project "Potential of beech-fir mixed forests to adapt from the climate change impacts in commercial forests (BuTaKli)"
2016
Exchange year, participation in two master studies: Marine Sciences and Environmental Management at the University of New South Wales (UNSW) in Syndey - Australia
2015
Internship at the German Development Cooperation (GIZ) – Eschborn
Department of rural development and agro-economy in the program Social and Environmental Standards
2013 - 2017
Master degree in "Environmental Sciences" (M.Sc.) at the Albert-Ludwigs-University of Freiburg with focus on biodiversity, vegetation and wildlife
2010
Internship at the NGO Tropenbos International in Kumasi - Ghana in the field of sustainable forestry and environmental management
2007 - 2012
Bachelor degree in "Forestry and Environment" (B.Sc.) at the Albert-Ludwigs-University of Freiburg with focus on international forest management
Publications
2019
Presentations
Almeida, I.; Sardemann, G.; Fricke, A.; Meyer-Soylu, S.; Trenks, H.; Waitz, C.; Parodi, O.; Seebacher, A.; Kopfmüller, J.; Rösch, C.; Stelzer, V.; Saha, S.; u.a.
Managing urban trees and forests under the threats of climate change, urbanization, and pollution
.
2019. IUFRO World Congress (2019), Curitiba, Brazil, September 29–October 5, 2019 
2018
Presentations
Saha, S.; Almeida, I.; Rösch, C.
Comparison of ecosystem services from mixed against monospecific forests in the southwest Germany: a survey on public perception
.
2018. 11th 11th International Beech Symposium, Viterbo, I, September 18-21, 2018 (2018), Viterbo, Italy, September 18–21, 2018