Integrated water resources management (IWRM) for Java in Indonesia (application phase)
Project team:

Lehn, Helmut (Project leader); Jürgen Kopfmüller

Funding:

Bundesministerium für Bildung und Forschung

Start date:

2004

End date:

2005

Project partners:

Universität Karlsruhe: Institut für Wasserwirtschaft und Kulturtechnik (IWK) - Koordinator, Institut für Siedlungswasserwirtschaft (ISWW), Institut für Massivbau und Baustofftechnologie (IfMB), Versuchsanstalt für Stahl, Holz und Steine (VA-SHS), Geodätisches Institut (GIK).
Universität Gießen: Institut für Geographie (IfG).
Forschungszentrum Karlsruhe (FZK): Institut für Technische Chemie (ITC-WGT, ITC-ZTS), Institut für Technikfolgenabschätzung und Systemanalyse (ITAS)

Research group:

Sustainability and environment
Project description
Background:
Due to its location in the tropics, the Island Java (Indonesia) is in principle rich of rainfall. Anyhow the south coast area of Java suffers from water shortage during the 3-4 month dry season with only little precipitation. As a result of the special hydro-geological situation of the karst bedrock, most of the precipitation immediately trickles into karst caves. As a consequence there are no surface waters that could provide water during the dry season. The insufficient water supply is one main reason for poor living conditions in the rural areas and can be seen as one reason for the migration of young people ("brain drain") to large cities like Yogyakarta.
In contrast to the lack of surface waters, there are big amounts of subsurface (karst) water resources available with high potential for drinking water development. In this regard, Integrated Water Resources Management is expected to secure a sustainable development in drinking water development, allocation and sewage disposal considering particularly hydrologic, hygienic, ecologic, economic and social aspects as well as cultural conditions and institutional frameworks.
Goals of the project:
At first, during a 6-month-old pre-project-phase, integrated concepts for water resources management are developed in close cooperation of German and Indonesian project partners of science and industries. The intended key activities are subdivided into the following 6 work packages:
Management of water quantities (drinking water development, power generation)
Drinking water supply, water treatment, water quality
Sewage-/ Waste treatment
Ecologic and economic assessment
Technology assessment and socio-economic conditions
Implementation/ technology- and know-how-transfer (capacity-building)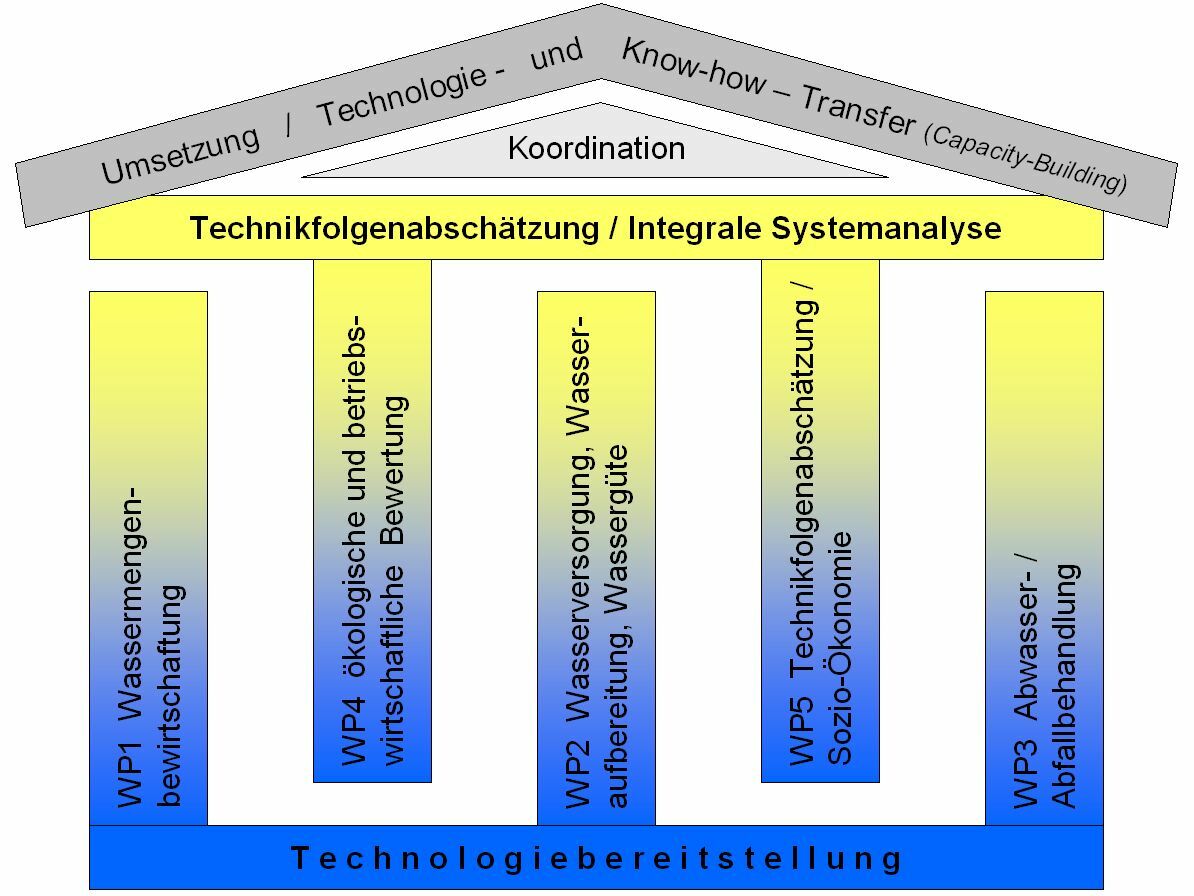 Abbildung: Struktur der Arbeitspakete
The project is expected to set a good example for further projects.
Key activities of ITAS:
Analysis of the present economic and social conditions in the area under investigation
Analysis of fresh-water provision
Derivation of requirements from the integrative concept of sustainable development
Cost-benefit analysis for the assessment of alternative scenarios (drinking water supply, sewage- and waste treatment)
Consideration of social acceptance of intended technologies.
Involved institutions:
Universität Karlsruhe
Institute for Water and River Basin Management (IWG)
Institute of Aquatic Environmental Engineering (ISWW)
Institute of Reinforced Concrete Structures and Building Material Technology
(IfMB)
Research Center for Steel, Timber and Masonry (VA-SHS)
Geodetic Institute (GIK)
University of Gießen
Institute for Geography (IfG)
Forschungszentrum Karlsruhe
Institute for Technical Chemistry (ITC-WGT, ITC-ZTS)
Institute for Technology Assessment and Systems Analysis (ITAS)