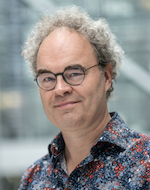 Prof. Dr. Karsten Wendland
Professor / Senior Researcher seconded to ITAS until 2022

resigned

Research group "Digital Technologies and Societal Change"
Institut für Technikfolgenabschätzung und Systemanalyse (ITAS)
Postfach 3640
76021 Karlsruhe
Fields of work
Artificial Intelligence and Machine / AI consciousness
AI Ethics in Business Innovation Processes
Participatory ICT Transformation
Science podcast Self-Conscious AI (German)
Professional background
Karsten Wendland is Professor of Media Informatics at Aalen University with working focus on human-centered technology design.
He studied computer science with minors in vocational pedagogy and software ergonomics at Technische Universität Darmstadt (TUD), was a research associate at the Center for Interdisciplinary Studies in Technology (ZIT), and received his PhD from the Department of Human Sciences at TUD on a topic of technology design.
He was founder, shareholder and sponsor of research institutes, consulting agencies and service providers in the field of participatory technology design. Furthermore, he was technology board member of a foundation and for many years he carried out numerous exclusive advisory mandates for international corporations, industry, SMEs as well as for public and private institutions in the health and social economy over many years.
At the Karlsruhe Institute of Technology (KIT), he led the BMBF project "Clarification of the suspicion of ascending consciousness in artificial intelligence (AI consciousness)" at the Institute for Technology Assessment and Systems Analysis (ITAS). As an international keynote speaker with speeches in the EU, India, Russia and South America, Karsten Wendland speaks on digital ethics and technology futures.
Selected publications
Wendland, K.
Demystifying Artificial Consciousness - About Attributions, Black Swans, and Suffering Machines
2022. Journal of AI Humanities, (9), 137–166
Wendland, K.
Menschenbild ohne Menschen : Subjektkonstitution im Spiegel synthetischer Konkurrenz
2021. Wer bist du, Mensch? : Transformationen menschlicher Selbstverständnisse im wissenschaftlich-technischen Fortschritt. Hrsg.: A. Grunwald, 240–259, Herder
Wendland, K.
Wird die Krone der Schöpfung auf ein neues Haupt gesetzt? Bewusste KI-Systeme im Fokus technischer Entwicklungen
2020. Digitale Bildung und Künstliche Intelligenz in Deutschland : nachhaltige Wettbewerbsfähigkeit und Zukunftsagenda. Hrsg.: Ronny Alexander Fürst, 221–240, Springer Fachmedien Wiesbaden. doi:10.1007/978-3-658-30525-3_9
Wendland, K. (2011)
Kultur- und Technikgestaltung in Social-Intranet-Projekten. In: Wolf, F. (Hrsg.), Social Intranet. Kommunikation fördern, Wissen teilen, effizient zusammenarbeiten. München, 2011: 122-141. Hanser.