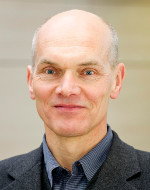 Dipl.-Soz. Ulrich Riehm
Scientific staff until 2017

retired

Research area Knowledge society and knowledge policy
Institut für Technikfolgenabschätzung und Systemanalyse (ITAS)
Postfach 3640
76021 Karlsruhe
Education and professional background
1971 - 1976, studies of sociology and pedagogics at the University of Mannheim; 1976, German university degree "Diplom". 1978, advanced vocational training in applied informatics. 1979, staff member at the computing center of John Deere (Lanz), Mannheim. 
Entry at ITAS, fields of work
Since August of 1979, member of scientific staff at Abteilung für Angewandte Systemanalyse (AFAS), which was merged into the Institute for Technology Assessment and Systems Analysis (ITAS) in 1995. In 2005, moving from ITAS to its Office of Technology Assessment at the German Bundestag (TAB), Berlin, and back to KIT-ITAS, Karlsruhe in 2012. Retired in November 2017.
Completed projects (selection)
List of publications at ITAS