ITAS and ENTRIA organized debate on the new law on site selection [06.12.2013]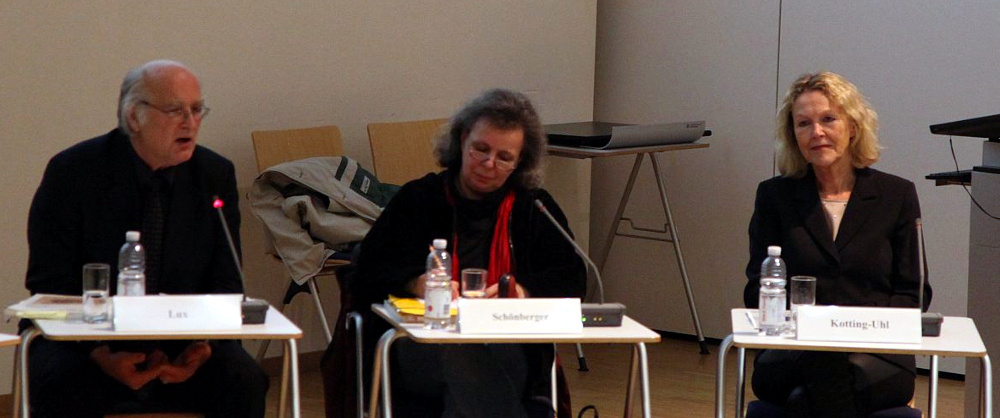 The disposal of nuclear waste and residues stood in the centre of a panel discussion taking place in the Audimax of KIT on 21st of November 2013. Especially questions related to public participation were discussed with the 170 attendees of this event on "Disposal of radioactive residues: The new law on site selection – how to proceed?". ITAS had organized it together with the speakers of the ENTRIA-project.
Sylvia Kotting-Uhl (MdB, Bündnis 90/Die Grünen), Ursula Schönberger (Arbeitsgemeinschaft Schacht KONRAD e.V.), PD Dr. Ulrich Smeddinck (Lehrstuhl Staats- und Verwaltungsrecht /Verwaltungswissenschaften, TU Braunschweig), Dr. Peter Hocke (ITAS at KIT) and Prof. Dr.-Ing. Karl-Heinz Lux (Lehrstuhl für Deponietechnik und Geomechanik, TU Clausthal) were the panelists. They are all experts, who have scientifically or politically accompanied or shaped the search process for a repository in Germany.
The difference in their evaluation of the new law on site selection from 23rd of July 2013, which has been passed by the Bundestag, already showed its difficult standing. In accordance with their view of the law the experts were also of different opinion regarding the question whether it will be successful. Successful in this case means that a new site selection procedure will be carried through and adequate public participation is ensured.
The question of public participation also stood at the centre of the debate with the attendees. In particular, they highlighted the scientists' responsibility to act self-critically and to meet the interested public on equal footing.
Covering a range of topics, such as legal and procedural questions and comments as well as such related to science policy, the complexity of the question of selecting a site for a repository for heat-developing wastes and residues was clearly highlighted during the debate.
The debate was organized in the context of the BMBF-project "Disposal options for radioactive residues: Interdisciplinary analyses and development of evaluation principles (ENTRIA)", which had a three-day project meeting in Karlsruhe from 21st till 23rd of November. Prof. Clemens Walther (Leibniz-Universität Hannover) moderated the debate.
Related links: