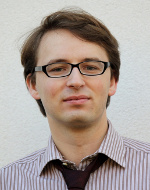 Paul Grünke, M.A.
Doctoral student

Research group "Philosophy of Engineering, Technology Assessment, and Science"

Room:

413

Phone:

+49 721 608-24278

paul gruenke∂kit edu
Institut für Technikfolgenabschätzung und Systemanalyse (ITAS)
Postfach 3640
76021 Karlsruhe
Education
Undergraduate studies in Mathematics (B.Sc) and graduate studies in Philosophy of Science and Technology (M.A.) at the Technical University Munich.