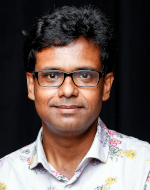 Dr. rer. nat. Somidh Saha
Institut für Technikfolgenabschätzung und Systemanalyse (ITAS)
Postfach 3640
76021 Karlsruhe
Inhaltliche Schwerpunkte
Herausforderungen in nachhaltiger und multifunktionaler Waldbewirtschaftung
Trade-offs zwischen Anpassungsstrategien und Klimaschutzstrategien
Erhöhung der Resilienz der Wälder für den Klimawandel
Metaanalyse und quantitatives Review in der Forstwirtschaft und Ökologie
Synthese von Daten aus Bundeswaldinventur
Stressökologie (z. B. Dürre) von Bäumen in den Wäldern
Urbane Forstwirtschaft und urbane Ökologie
Beruflicher Werdegang
| | |
| --- | --- |
| 2000 - 2003 | B.Sc. in Zoologie (Honours), Presidency College, Universität Kalkutta, Kolkata, Indien |
| 2003 - 2005 | M.Sc. in Forstwissenschaft (Management und Wirtschaft), Forest Research Institute, Dehradun, Indien |
| 2005 - 2008 | Förster, Centre-in-Charge, The Bamra Forest Centre, BILT Pulp and Paper (Unit - Sewa), Odisha, Indien |
| 2008 - 2012 | Doctor rerum naturalium (Dr. rer. nat.) in Forstwissenschaft, Albert-Ludwigs-Universität Freiburg (DAAD Stipendium) |
| 2013 - 2016 | Wissenschaftlicher Mitarbeiter an der Albert-Ludwigs-Universität Freiburg |
| seit 2017 | Wissenschaftlicher Mitarbeiter am ITAS |
Ausgewählte Publikationen
(Bitte besuchen Sie mein ResearchGate-Profil, um die vollständige Liste der Publikationen zu sehen.)
Almeida, I.; Rösch, C.; Saha, S.
Comparison of Ecosystem Services from Mixed and Monospecific Forests in Southwest Germany: A Survey on Public Perception.
2018. Forests, 9 (10), Article: 627. doi:10.3390/f9100627
Chakraborty, A.; Saha, S.; Sachdeva, K.; Joshi, P. K.
Vulnerability of forests in the Himalayan region to climate change impacts and anthropogenic disturbances: a systematic review.
2018. Regional environmental change, 18 (6), 1783–1799. doi:10.1007/s10113-018-1309-7
Saha, S.; Kühne, C.; Bauhus, J. (2017)
Lessons learned from oak cluster planting trials in central Europe. Canadian Journal of Forest Research, 47: 139 - 148.
Link
Sohn, JA.; Saha, S.; Bauhus, J. (2016)
Potential of forest thinning to mitigate drought stress: a meta-analysis. Forest Ecology and Management, 380, 261 - 273.
Link
Saha, S.; Kühne, C.; Bauhus, J. (2014)
Growth and stem quality of oaks (Quercus robur and Q. petraea) established in cluster plantings respond differently to intra- and interspecific neighborhood competition. Annals of Forest Science, 71, 381–393.
Link
Publikationen
2019
Vorträge
Almeida, I.; Sardemann, G.; Fricke, A.; Meyer-Soylu, S.; Trenks, H.; Waitz, C.; Parodi, O.; Seebacher, A.; Kopfmüller, J.; Rösch, C.; Stelzer, V.; Saha, S.; u.a.
Managing urban trees and forests under the threats of climate change, urbanization, and pollution
.
2019. IUFRO World Congress (2019), Curitiba, Brasilien, 29. September–5. Oktober 2019 
2018
Poster
Saha, S.; Datta, P.; Rösch, C.
Silver fir - European beech mixed forests have higher productivity than pure forests of beech in South Germany
.
2018. 11th 11th International Beech Symposium, Viterbo, I, September 18-21, 2018 (2018), Viterbo, Italien, 18.–21. September 2018