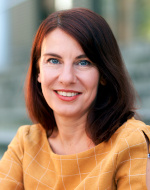 Prof. Dr. Dr. Rafaela Hillerbrand
Institut für Technikfolgenabschätzung und Systemanalyse (ITAS)
Postfach 3640
76021 Karlsruhe
Professional background
Before joining KIT, Rafaela Hillerbrand worked as an associate professor at TU Delft and was head of the interdisciplinary research group eet-ethics for energy technology at the Human Technology Centre (HumTec) at RWTH Aachen University. In 2011, she had the chance to advise the ethics commission for safe energy supply under Klaus Töpfer's guidance that was set up in reaction to the accidents in Fukushima. From 2006 till 2008 Rafaela hold a position as a senior research fellow at the University of Oxford.
Fields of work
Philosophy of science, engineering and technology
Applied ethics (esp. ethics of the environment, engineering ethics)
Risk and uncertainty analysis
Philosophy of computer simulations
Education
Rafaela Hillerbrand holds a PhD in theoretical physics and a PhD in philosophy. She graduated with distinction (summa cum laude) in both fields. Her PhD thesis on ethics of technology won the Lilli-Bechmann-Rahn-Preis of the University Erlangen Nürnberg in 2005. Her doctoral dissertation in physics was awarded the Ingrid-zu-Solms Naturwissenschaftspreis 2008.
Current positions (selection)
Member of the executive board of the Center for Disaster Management and Risk Reduction Technology (CEDIM)
Member HEiKa board of directors (Heidelberg Karlsruhe Research Partnership)
Ombudsperson for doctoral students and advisors at KIT
Deputy member at Council for Research and Promotion of Young Scientists (CRYS)
Field Editor "Energy Efficiency and Ethics" for the Journal of Energy Systems (JES)
Member of research board Heinz Nixdorf Gesellschaft
Member of research board BAM, Bundesanstalt für Materialforschung und -prüfung
Member of the Think Tanks of the President of the Helmholtz Foundation
Member of research board of the journal GAIA, since 2018
Member of advisory board "PlastikBudget - Entwicklung von Budgetansatz und LCA-Wirkungsabschätzungsmethodik für die Governance von Plastik in der Umwelt"
Selected publications
Hillerbrand, R.; Roeser, S.
Towards a Third 'Practice Turn': An Inclusive and Empirically Informed Perspective on Risk. In: Franssen, M., Vermaas, P. Kroes, P., Meijers. A.: Philosophy of Technology after the Empirical Turn, Springer, 2016
Hillerbrand, R.; Roeser, S.; Peterson, M.; Sandin, P.
Handbook of Risk Theory. Epistemology, Decision Theory, Ethics and Social Implications of Risk. Springer, 2012
Abstract
Hillerbrand, R.; Roeser, S.; Peterson, M.; Sandin, P.
Essentials of risk theory. Springer, 2013
Abstract
Hillerbrand, R.; Reitinger, C.; Dumke, M.; Barosevcic, M.
A conceptual framework for impact assessment within SLCA. The International Journal of Life Cycle Assessment 16(4), 380-388, 2011
Abstract
Hillerbrand, R.
Order out of Chaos? A Case Study in High Energy Physics. Studia Philosophica Estonica 5(2), 61-78, 2012
Hillerbrand, R.
On non-propositional aspects in modeling complex systems. Analyse & Kritik 32, 107-120, 2010