Gérard Valenduc, Patricia Vendramin, Bettina-Johanna Krings & Linda Nierling
How restructuring is changing occupations
Case study evidence from knowledge-intensive, manufacturing and service occupations
Leuven: Katholieke Universiteit Leuven 2008. Higher institute of labour studies. ISBN: 9789088360046, 196 Seiten, 19 Euro
[Table of contents]
---
INTRODUCTION TO THE REPORT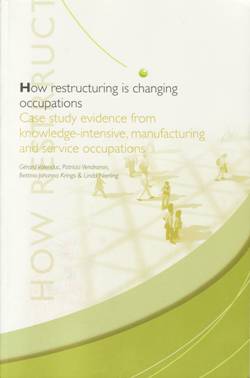 This report is the final deliverable (D11.1) of the workpackage on occupational case studies of the WORKS project (WP11 – Qualitative research – Case studies on changes in work - Impacts on the individual and the household). In this workpackage, 30 occupational case studies were achieved in 14 countries, between June 2006 and May 2007; in total 246 in-depth individual interviews were carried out, according to common interview guidelines elaborated in May 2006, at the end of the workpackage on qualitative methods (WP6).
These occupational case studies are closely related to the organisational case studies that were carried out in a selected number of business functions, during the same time span. In the WORKS project, business functions are at the core of qualitative empirical research, as they provide a relevant framework for analysis of value chain restructuring and changes in work. In order to study changes in work at the individual level, this report focuses on individual workers within occupational groups linked to key business functions. This link is justified in Chapter 2.
Six occupational groups are considered in the report: designers in the clothing industry; researchers in information and communication technology; IT professionals in software services; production workers in food or clothing; logistics workers in food or clothing; front office employees in customer relationships in public services. In each occupational group, three to seven case studies were conducted an reported in different countries, covering a variety of socio-economic and institutional contexts. Each case study relies on seven to nine in-depth individual interviews, including a biographical dimension.
In the first part of this report (Chapter 2), the research design and methodology are explained and justified. The key research questions are developed, as well as the concrete methodological choices and the practical organisation of the case studies. The second part of the report (Chapters 3 to 8) consists of occupational monographs, concerning the six above-mentioned occupational groups. The third part of the report (Chapter 9) is devoted to transversal comparative analysis.
A particular attention is paid to gender issues. Gender is a transversal theme in the analysis of changes in work at the individual level. The principle of gender mainstreaming, i.e. to take systematically into account the differentiated experiences of men and women in all items of data collection and analysis, is one of the basic guidelines of individual interviews. In this report, a specific section on gender is included in each monographic chapter, and targeted comparative analysis of gender aspects is drawn in Chapter 9.
Within the set of deliverables of the WORKS project, this report D11.1 is a masterpiece in the empirical phase of qualitative research, together with D10.1, which is the synthesis and comparative report on organisational case studies. IT has been prepared, during the first project year, by a report on methodologies for qualitative research and comparative research (Workpackage 6, deliverable D6.3), coupled to a training session for researchers involved in qualitative filed work. The theoretical foundations of the project were also elaborated during the first project year (Workpackage 3) and published as a book (Huws, 2006). The further steps of exploitation of the considerable empirical and analytical effort realised in organisational and occupational case studies will be the thematic reports, to be finalised in the third project year (Workpackage 12).
Acknowledgements
This report must acknowledge the contributions of all researchers involved in case studies in the WORKS partnership, namely: Jörg Flecker, Ursula Holtgrewe, Anika Schönauer (Austria, FORBA); Tom De Bruyn, Monique Ramioul (Belgium, HIVA); Valérie Devos, Maïra Muchnik, Gérard Valenduc, Isabelle Vandenbussche, Patricia Vendramin (Belgium and France, FTU); Vassil Kirov, Rumiana Stoilova (Bulgaria, IS); Birgitte Gorm Hansen (Denmark, NRCWE); Pamela Meil, Wolfgang Dunkel (Germany, ISF); Bettina-Johanna Krings, Linda Nierling, Martin Bechmann (Germany, ITAS); Petros Linardos (Greece, UPSPS); Csaba Makó, Miklós Illésy, Peter Csizmadia (Hungary, ISB); Marcello Pedaci, Mariangela Piersanti (Italy, IRES); Duco Bannink, Willem Trommel, Marcel Hoogenboom (Netherlands, UT); Kirsti Anthun, Thale Kvernberg Andersen (Norway, SINTEF); Ana Vasconselos da Silva, Tobias Woll, Margarida Paulos (Portugal, IET); Per Tengblad, Perilla Sternälv (Sweden, ATK); Simone Dahlmann, Alison Gosper, John Kirk (United Kingdom, WLRI).
Patricia Vendramin (FTU) led the scientific coordination of occupational case studies, including research design, proposal and discussion of methodological guidelines, monitoring of the implementation of case studies, follow-up of the reporting process and organisation of the final synthesis.
Thanks to all these case study authors, a highly valuable empirical material was gathered in 14 countries, highlighting both convergences and disparities about present and future occupational profiles and their challenges for workers, according to various institutional and social contexts.